Luke 5:3 He got into a boat, which belonged to Simon, and asked him to move away a little from the land.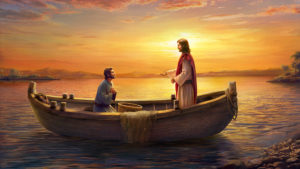 Today Jesus has decided to get on our boat. He needs no permission from us. All that He desires is our collaboration to continue the work of redemption. He understands our problems. He knows our frailty. His presence in our life's journey will become fruitful if only we remain confident in His directives. His presences fill us with goodness and abundance of great joy.
When Jesus gets on our boats it is always to give us new life and hope. When the sea seems empty, at His command everything turns out to amaze us. We must remain faithful daily to His guidance.
Like Simon Peter, we must make room for the Lord on the boat. We must be ready to continue trying regardless of the number of times we may have failed. Let us continue to trust His words.
Prayer: Welcome, Lord, into the boat of my life. Direct my paths. Instruct me on how to cast my net so that I may win more souls for you.
– By Prisca Onyinye Nwokorie