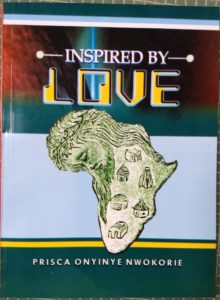 Prisca Onyinye Nwokorie, INSPIRED BY LOVE, Sir Kuf Ventures Ltd, Abuja 2011
It was God's project from eternity to make me in His very image and likeness. Hundred years ago, no one thought of me, even my parents. The Lord thought of me. He destined that at this point in time, at this very hour, on this day projected by Him from all ages, He formed me, gave me breadth and life. He placed me on the land in which I found myself. What a dignity and a noble title for me to be known and called "a child of God"! It does not matter for me if I am born in a poor, wretched home, from infamous parents that are not descendants of kings and Princes, of high reputations but clothed with the rags of poverty.
In the likeness of the Most High, God gave me life with an act of love so as to render love for love. Greater for me is the love of Him, who made me from the dust of the earth and gave me His spirit. All on earth outside the true love of God is vanity. Loving God, living for God, thinking of God and working for God is the happiness of every living soul. What about you?
The life of the soul is God. God is love, peace, light, serenity, gentleness and calmness of the spirit. Away from God, there is no peace and rest for the soul.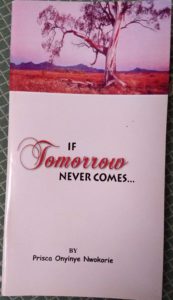 Prisca Onyinye Nwokorie, IF TOMORROW NEVER COMES, Ambassador Publications,  Iperu-Remo 2008
Looking at the two sides of the coin, LIFE and DEATH, one finds another dimension in our existential history. Man, destined from the origin of creation to live, love and serve God perpetually incidentally turned to be a foe because of greed. Thus, bringing a change in the divine plans of God to become a transit camp.
Life therefore became a bed of thorns where jealousy, envy, hatred and wickedness abound. It had become unrest for mortals and no longer 'A bed of roses'. The world, which was meant to be man's heritage from God, has now become a land of pilgrimage where he lingers for a while and passes on like the grass in the fields… We have to take life easy and the things in it with prudence. We may never get out of it alive.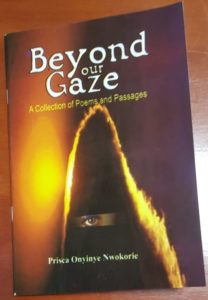 Prisca Onyinye Nwokorie, BEYOND OUR GAZE, Ambassador Publications,  Iperu-Remo 2007
Just as we continue to toil in this immense world where a lot of experiences keep impinging on us, it is natural that we humans as distinct from brutes should have some thoughtful moment when we stand and look at the goings in the world. There is always a time to reflect and time to be busy for some worthwhile jobs that will be for the edification of society. What then shall we do? Just think for a while. We are making a long journey to the unknown. We need some moral courage to continue without losing heart. Shun fear. Dare to face the future. Be it good or ad. Now after due consideration of the circumstances surrounding our human nature with its limitations, there is every need to continue moving forward even when going forward is as difficult as backward. Let the standing word be "courage".
I offer you this bouquet. It is my humble offering to aid my fellow pilgrims in our journey through life.