Mt 15 23 But he didn't even say a word to her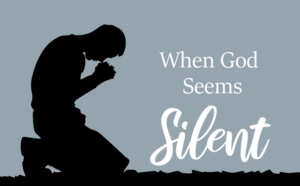 There are times when God seems silent and it appears as if He has left us. We go in search of Him for help without receiving a response. All that we experience is nothing but silence: an experience comparable to indifference, irrelevant, inappropriate or inconvenience. We feel that apparent silence of God with pain. Beyond the words written about Him in the Bible, we still feel His absence. Instead of feeling His presence in our life, we get discouraged because of our anxiety, disobedience and unbelief.
God has His reasons why He sometimes seems absent. His silence could be a blessing waiting for His timing in our lives. He wants us to remain committed to Him all the time. He is with us even when we live without material comforts, relational fulfillment He is still there to guide us. God's presence in our lives will offer us true love, happiness, inner peace, eternal life.
Prayer: Lord, strengthen my faith in you. Help me to remain steadfast in your love.
– By Prisca Onyinye Nwokorie