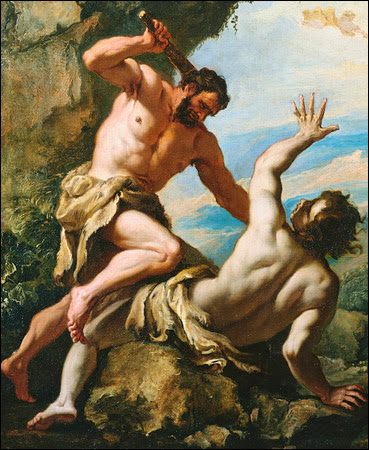 What a disgrace to be ignorant
to forget that LIFE is a gift from God,
that God distributed this gift among we creatures,
irrespective of our culture, religion, tradition or race.
Behind the scenes where we cannot see,
there is a divine work of the invisible God.
God allowed us to make choices and decisions,
to enable us to write on the springs of time.
I call on Cain from the North, South, East and West of all nations for brief questioning:
Cain, why have failed God again in your duty to protect life?
For one more time, you descended on your brother, Abel.
You have raised the same sword on the youths of other nations.
Where is your conscience? Can't you hear him cry?
Killing, prejudice, arrogance and bitterness
has verified your inability to be at peace with Abel.
Because you denied the true nature that called you to love;
you now hunt your brother's life him like monsters.
Cain, why have you allowed the angel of destruction to encourage you?
You daily destroy your brother's shops and properties.
You treat him with insolence and torture.
Burning him alive, you make him regret his world.
Cain, why have you allowed vanity to turn your discontented thoughts,
reactions and display to shame?
Your words, expressions and feelings are only
a reflection of anger, envy and hate against your fellow man.
Cain, if you believe the report of history,
you will understand that your brother loves you.
Your brother helped you to fight apartheid.
If not for his kindness, your enemies would have defeated you.
Cain, the voice of God is still asking:
Where is your brother, Abel?
Even as you changed your name to Saul, the question remains:
Today, everyone is asking: Cain Saul, why such bitterness on your brothers?
Cain, the absence of love has created emptiness in you,
creating a vacuum in ambition, desire, pleasure or possession.
While fear grows in the emptiness of love,
In love, there is a fullness of life.
Cain, your wicked acts have stripped off your dignity.
While our eyes stream with tears at the feet of Jesus Christ,
to attain a comfortable and well-grounded hope of unity,
You must give to the world a proof of your sincerity and repentance.
Cain, for one more time, come back to yourself.
Do not allow greed and arrogance to illude you.
Jealousy is the root of anger. We cannot love while we are concerned with ourselves.
We are better together as brothers.
Prisca Onyinye Nwokorie is a Roman Catholic nun. She belongs to the religious order of "Oblates of St. Benedict Joseph Labre" in Italy. She is a graduate of the University of Bari where she obtained her Bachelor's and Masters' degrees in "Information and Communication Technologies for the Production of Software" and "Computer Science" respectively. Currently, she is carrying out research work on "E-learning for Developing Countries".