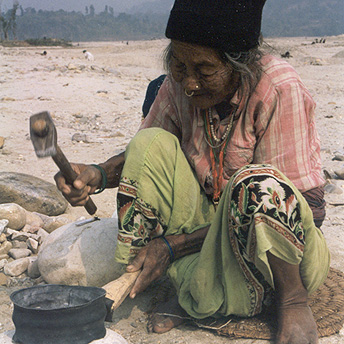 Think before you speak
Weigh your words before you deliver them
The earth is on rebirth and reformation
It is undergoing renovation and maintenance.
I saw an enormous rock breaking into pieces
The tiny stones from the rock are fly away like missiles to hit anything it finds
Those stones are full of woes; you can find them anywhere
They are scattered all over the land.
Take it easy! The earth is in motion
If not careful, you may fall victim and fall into the ocean
The society became too improved and sophisticated
People in it are in a hurry moving up and down.
Pain, fear, despair and sorrow have overtaken our serenity
As you can see and reason with me
The stones of life are full of woes; it doesn't discriminate
It hits unexpectedly at random both man and animals.
The situation on ground is a game-changer
It is testing time; the high and mighty are crying
They can no longer defend themselves
They cannot speak for those under them; the virus has exposed their weakness.
Our leaders are like flowers; they might live forever
but they can never bear fruit until they die
They made strange and impossible promises to the masses
The millionaires among them have gone into hiding.
From the heavens, God looked down on earth
He saw bloodshed, corruption, misery and human degradation on the land
Cleansing is necessary for a new layout and composition
for they have hidden their secrets.
Just like thieves steal things they will sell
They made away with our treasures
They made us appear like destitutes and incompetent
To other nations, we were streamlined beggars in need of aid.
In love and trust, we chose a shepherd
We kept him at a place; a mansion we built for him
He was supposed to be there alone with his family
But no, he gathered them: the educated, the uneducated, the old and the young all in one place.
Thinking, reasoning and ideas varied according to their age
Under closed doors they planned for our downfall; all in the name of leadership
Our money syphoned to other countries
We were mute and filled with amazement.
Our hospitals were left unequipped
Our schools were left in a pitiable condition
But their children were sent outside to school
Foreign schools and hospitals were for them and their families.
Now the die is cast; disease came calling
Doctors nowhere to be found; nurses are in hiding
The masses wailing and crying: 'where is he?', they enquired;
'Bring him out, we want to talk to him; he has to talk to us'.
All roads leading to the house all closed
All the roads leading to the country all closed
In the middle of the night, they smuggled him out
The inhabitants are grieving: "Bring out our leader", "Where is our father?".
In a country without a peacesetter, anything goes
In a place where old people make decisions, anything goes
We are supposed to be the future rulers but our tomorrow will never come
They have refused to perform because they lacked foresight.
The stone is giving a hard knock on the head
To those that have refused to hear and listen
the stones brought them unavoidable pain and panic
Heartbreak, torment, suffering and unhappiness have visited them.
I have flipped my tape recorder to another tape
Beyond human calculation and algorithm
I realized that our free world is responsible for our pains.
Oh God, who did we offend in this nation?
Prisca Onyinye Nwokorie is a Roman Catholic Nun. She belongs to the religious order of "Oblates of St. Benedict Joseph Labre" in Italy. She is a graduate of the University of Bari where she obtained her Bachelor's and Masters' degrees in "Information and Communication Technologies for the Production of Software" and "Computer Science" respectively. Currently, she is carrying out research work on "E-learning for Developing Countries".