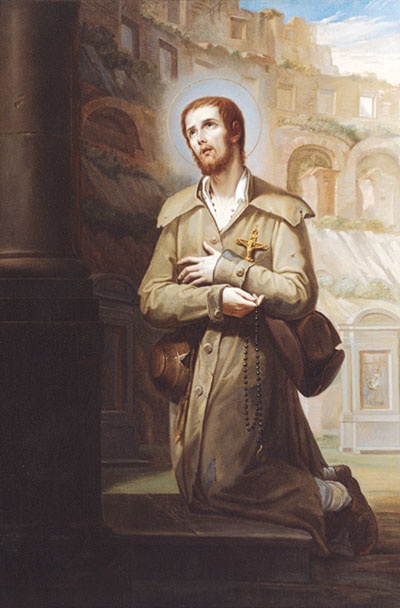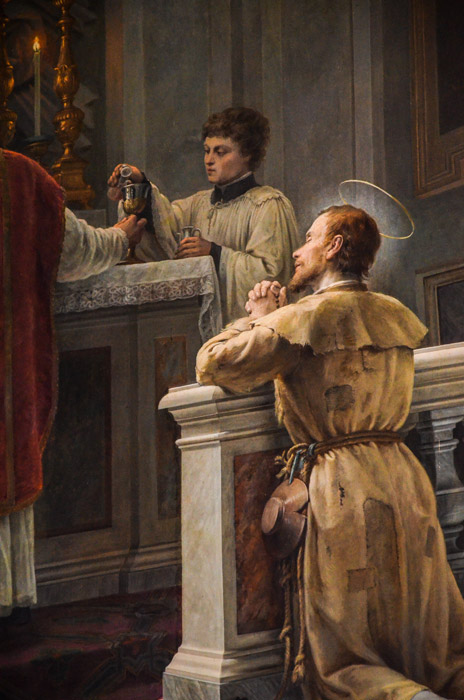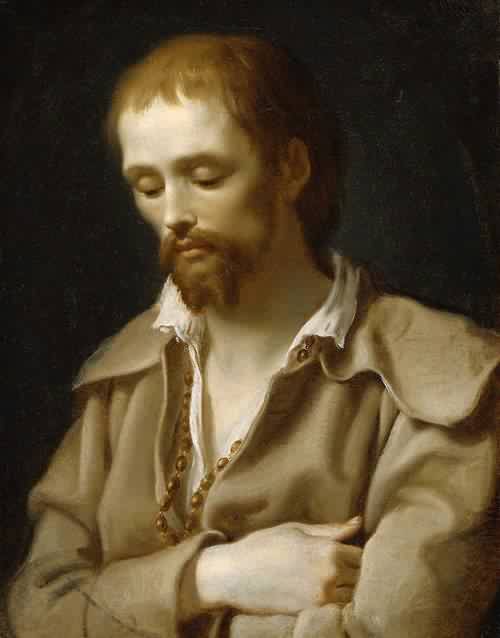 "God will assist me, and will guide me in the enterprise which He has Himself inspired: it is not permitted to us to resist the will of God" - St. Benedict Joseph Labre
Benedict Joseph Labre had from his childhood the inspiration of God to lead a very austere life, but he did not know in what manner, in what religious Order or solitude. Being grown up, he made two attempts to enter La Trappe, but was obliged to give up the thought of it, understanding from his parents and from the bishop of Boulogne, that this was not the will of God. He then tried La Chartreuse but was rejected. No other remained to him but the very rigid cloister of Cistercian Fathers at Sept Fontaines. He goes with great eagerness; he enters, satisfied and believing that he has at last ascertained the will of God; unfortunately, continual illness and interior trails made him to leave the monastery. What will Benedict do? What will he follow? When will he lead the form of life God willed for him?
Memoir of Benedict Joseph Labre
Benedict Joseph Labre was born in Amettes, France, on the 26th of March, 1718 into the family of John Baptist Labre and Anna Barbara Grandsir, he was the eldest of fifteen children. He was baptised the day after his birth, on the 27th of March and received the names Benedict Joseph. Being piously brought up by the parish priest of Erin, Fr. Francis Joseph Labre, who was a relative of his family, he felt an early call to leave the world and to enter into religion.
He had a fair, fine, blooming complexion and his hands were well formed. He was known for his patience, amicable, gentle way of life. He seldom speaks and his words were full of wisdom. He was a model in the exercise of devotion to other children mostly to those who sought to conform their behaviour to his. Most times, his presence acted as a restraint on the passions of the others.
Benedict Joseph was not a religious of a considerable order, nor a hermit from the desert, nor a prince, nor a gentleman with fine and splendid clothes. He lived in the midst of the world; he passed through estates, towns and cities; he was covered with rags, thin in countenance, of despicable appearance, humble, modest and retired.
He was a poor and ragged man who had true wisdom. Benedict loved nothing but God, heavenly and eternal things and the salvation of his soul; thus, nothing else was of any importance to him, however serious it might be. St Augustine says, "Hunters do not consider as troubles the pains and difficulties of the chase, on the contrary, they take pleasure in them because they like hunting. It is the same with a soul that loves God". He was an adorer of Jesus in the Blessed Sacrament and devoted to the Blessed Virgin Mary. He remained almost the whole day in the church, like a person in ecstasy, always quiet and on his knees, without ever turning his head from one side to the other. Solitude and silence were practised by him. The mere view of him gained his veneration as a saint. In every place he visited, he always left the odour of sanctity that makes people desire him.
He was admired by all who stopped him by chance in the streets, to speak to him, to see him with his eyes cast down and his hands crossed on his breast, answering only what was necessary, in few and well-considered words and then departing as soon as he could disengage himself, going on his way quite recollected in himself, with his arms folded and his hands within the sleeves of his ragged cloak. His poor dress, the crucifix on his breast, the rosary around his arm, everything breathed devotion.
Benedict Joseph was detached from all things, as he never received anything but what was precisely necessary. Several times, he was offered stockings, shoes, shirts and sometimes upper clothing, but he refused everything and only accepted an old hat and a pair of worn-out shoes because his own being so ragged and worthless. The great charity of people around him made them wish to give him a new coat of coarse cloth, knowing that he would not have anything elegant and fine, but it was not possible to make him receive it. Benedict Joseph would say, "I do not want it, give it to some other poor man".
He was accustomed to nourishing himself every day with refuse and cast-off things which he finds on the roads, orange peelings, cabbage leaves, decayed fruit and any useless thing that is thrown out of the windows; he only eats what is sufficient for the day and at night nothing. If he finds nothing, he never asks alms; he accepts it in a limited manner if it is given to him. If nothing is given to him he goes into the country, eat grass and drink the water which he finds.
Childhood of Benedict Joseph Labre
Benedict Joseph normally rises early in the morning for meditations and assists the priest at Mass. He often withdrew from the presence of the servants to go to church. With admirable affection, devotion and modesty, Benedict Joseph received the sacrament of the Holy Communion and Confirmation on the same day at Erin from the bishop of Boulogne. After this time, he went to communion only once a month, until he was desired by his confessors to go very frequently.
Often times, he visited the Blessed Sacrament in the church and entertained himself a long time in a very devout manner with the Lord. One day in the season of the Carnival, Benedict Joseph was seen in the church of St. Pol, where the Blessed Sacrament was exposed for the Forty Hours, he remained there from morning till night immoveable on his knees. His devotion to the Blessed Sacrament from his early stage of life was constantly performed and observed till his death.
Benedict Joseph was sent to school when he was only five years old. Here his diligence, patience, modesty and humility won the admiration of his teachers. As a little boy, he showed no liking for the rough play so common with his fellow students. He preferred to retired in his room, in nourishing his soul with prayers and with the reading of good books he found in his uncle's library.
Still young in age, he would prefer to give the food meant for him to the servants that lived with him in his uncle's house; and more than once Benedict Joseph was secretly observed giving in private to the poor part of his own food. Without obligation, he observed all the fast of the Church during Lent.
Benedict Joseph's desire to serve God
Benedict Joseph, inspired by his uncle at that tender age sought solitude and silence to hear the voice of God, which spoke to his heart. For this purpose, he visited many monasteries. At first, he decided to serve God as a Trappist. He told his desire to his uncle, the priest, but the uncle thought that Benedict Joseph was too young to know his mind, being at sixteen years old. In an attempt to discourage him from the thought of joining the monks of La Trappe, Fr. Francis approached his nephew with the following words: "Ah my dear nephew, your design is not prudent. Do you know what it is to live among the solitary monks of La Trappe? If you knew how rigid is the system of life which they there follow, you would change your mind. I can tell you, that others, more robust than you, have not been able to hear it; scarcely had they entered than they were obliged to abandon it. And what would you do? Your age is tender, you are of a spare habit of body and your strength is weak. How could you bear it?". Despite all the advice by his uncle, the priest, Benedict Joseph was not discouraged in his decision; instead of turning him from it, the thought of La Trappe served to give him a greater desire of going, as he had taken the firm resolution.
At the age of eighteen, in great affliction, Benedict Joseph returned to his parents after the death of his uncle, Fr. Francis. His parents decided to send him to his maternal uncle, by name Don Bonaventure Joseph Vincent, that he might proceed with his studies, which had been interrupted. For Benedict, his desire for La Trappe was like a garden of delights, whereas many people see it as a wilderness of austerity calculated to terrify anyone. He continued to manifest his desire to join the monks of La Trappe, but neither his uncle nor his parents gave consent to his request.
After much persuasion, Benedict Joseph succeeded in obtaining his parents' permission to go to La Trappe. It was a huge sacrifice for his parents to allow their first-born, who by the virtues and talents with which God had adorned him, had gained their love more than any other of their sons to join the monastery. After receiving the blessings of his parents, he departed happy and being desirous to reach the limits of his journey.
On his arrival, the monks of La Trappe, taking into consideration his age and statue would not receive him; they promised to receive him some other time and at a more robust age, more suitable to adapt to the requirements of the Institute. Deeply grieved, Benedict Joseph returned to Amettes.
For the second time, he obtained the permission of his parents to join the La Chartreuse at Neuville. When he got there, he was well received but only as a postulant for a trail. After six weeks of his probation, the father-prior, fearing with a reason that a longer residence might not be of help to Benedict, judged it proper to dismiss him.
Being desirous to serve God in a special way, Benedict Joseph went again to La Trappe and not being admitted for the motives which still existed, he presented himself at the monastery of Sept Fontaines of the Cistercian order. To the great joy of his heart, he was immediately received; and being clothed with the habit he received the name of Brother Urban. Scarcely had he entered the monastery that he was seized with illness, that the superiors and physicians judged that he was not destined to remain in the Institute, because of his weak constitution. After six months and twelve days, he was sent away from the monastery.
Benedict Joseph was afflicted because, in all his attempts, he was completely rejected on account of his youth and poor health. He prayed fervently to God that he would discover his true calling and would be ready to accept the calling in whatever form or shape it would be.
Inspired by an inner voice in him, Benedict Joseph followed the traces of St Alexis, to abandon entirely his country, his parents, conveniences and everything dear to him in this world for a more closer intimacy with God through prayer, life of poverty and penance, visiting celebrated places of devotion by pious pilgrims as much as he could.
Benedict Joseph's life as a pilgrim
In the same year in which Benedict Joseph left the monastery of Sept Fontaines, he began the course of his pilgrimages to holy places. He journeyed as a poor pilgrim from one shrine of grace to another. He made all his pilgrimage on foot, in a miserable and ragged dress, which he never changed for the variation of the seasons or when they were no more to be worn. He took no food with him but depended altogether upon Divine Providence. He usually slept on the bare earth or on the step of a church. He often took the most lonesome and hardest roads from one place to another, so as to have more time for prayer and meditation. Wherever he could he did works of mercy both temporal and spiritual.
In his painful journeys, Benedict Joseph was considered a poor man, abject and a beggar in the eyes of men but he was rich in the eyes of God. He walked always with great modesty; he never allowed his eyes to attract attention and curiosity of travellers; he was always absorbed in God.
He directed his view to the house of Loreto, which is the most celebrated and venerable Sanctuary of the Holy Mother of God, on the account of the sublime mysteries operated by God therein. He went from Loreto to Assisi, to proceed afterwards from thereafter to Rome. He venerated the memory of St. Francis of Assisi; with great devotion, he procured to be inscribed in the Archconfraternity of the Cordigeri of the saint and began to wear from that time a little cord on his bare flesh, which was not known till the body was unclothed after death. From there he went to Rome and was received into the hospital of St. Louis of the French for three days, according to custom. He remained in Rome for many months, spending his day in the churches and sleep at night in the open air. His stay in Rome attracted the admiration of all, especially in his patience in bearing the ill-treatment he received, his daily long prayers, his assistance at the Holy Mass and his long hours of adoration of the Blessed Sacrament. Having visited the Sanctuaries in Rome, he visited the grave of St. Romualdus at Fabriano, at that of St. Nicholas at Bari, at the grave of St. Januarius in Naples and at that of St. Francis at Assisi. He also visited the Sanctuary of Our Blessed Lady of Einsiedeln in Switzerland and all the famous shrines in Germany and France. He visited the churches in which the Blessed Sacrament was exposed. The people who saw him kneeling down in adoration from morning till sunset motionless like a statue and with his eyes always fixed on our Lord, not knowing what name to call him named him "the beggar of the Forty Hours' Devotion".