Michael Nnadi was one of four seminarians who were abducted on the 8 January 2020 from the Good Shepherd Major Seminary in Kaduna city.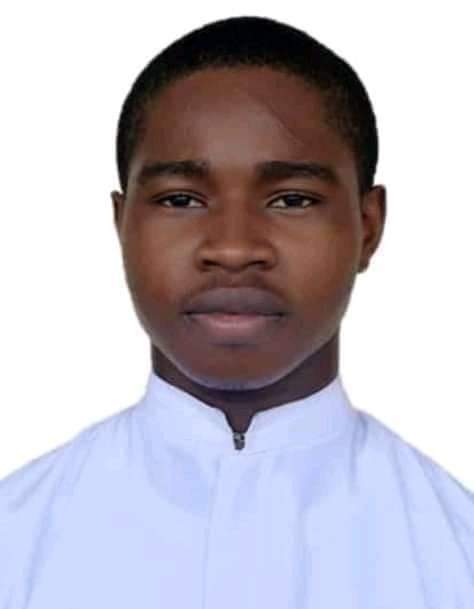 As Christians are being slaughtered daily
the world seems to be silent about it
Michael Nnadi was like autumn leaves on the tree
His blood was shed to enrich those who stood to look.
Along life's road, we walked, watched and prayed
thinking and believing Michael Nnadi would return.
How noble our hearts felt when we received the news of the freedom of his companions.
In a blink of an eye, his captors forced him to exit.
Our hearts still filled with pains,
unending tears flow from our eyes like the Mississippi River
as in vain we hoped to have him back
to continue his journey as a future priest.
In prayers, we framed our petition to God
From out of the "GOOD SHEPHERD" seminary, he was chosen at random
In that tender heart, Michael planted the seed of joy - his martyrdom
which will someday bloom into good deeds.
We are buried in endless thoughts about Michael Nnadi death
As he had no time to say 'Goodbye' to anyone.
God willed to carry him through corridors of light
where the hours are endless with endless praises.
At this season of death and rebirth
in which nature and silence gives its great lesson in life
Michael Nnadi's death worth a hundred sermons of evangelization
His death reminds us of the impossibility of avoiding risks and injuries.
Michael translated his love for Christ into kindness
Kindness is part of human existence
Like the air we inhale, it cannot be observed
Without kindness, love will seize to exist.
In the presence of Jesus Christ, his life is changed for the better
As what is precious is never forgotten easily
When life's brief day is over, and light is gone
We pray the Lord to crown Michael Nnadi eternal life.
Prisca Onyinye Nwokorie is a Roman Catholic Nun. She belongs to the religious order of "Oblates of St. Benedict Joseph Labre" in Italy. She is a graduate of the University of Bari where she obtained her Bachelor's and Masters' degrees in "Information and Communication Technologies for the Production of Software" and "Computer Science" respectively. Currently, she is carrying out research work on "E-learning for Developing Countries".