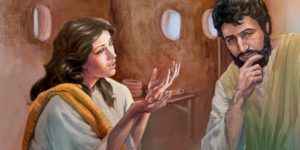 Considering the best of others
reflects a heart of peace and calm.
Give people around you a benefit of the doubt
Do not be fast with your judgement.
Approach others with compassion and love
you will come to understand them better.
If you respond to a crisis with mercy
God will reveal His plan to you.
Be of help in a mission to save souls
When faced with doubt or misfortune,
Trust and hold on to the words of God
He can and will fulfil his promises in your life.
Mary faced an enormous challenge:
to her faith, the faith of her family, of Joseph and her trust in God;
She believed and trusted in God's promises
To become the mother of Jesus Christ.
Joseph did not react with hurt and anger
He took his worries to God in prayer
He assumed a mission of confidence, faith and trust in God
Thus, God rewarded him with consolation and guidance.
As God continue to unfold his plan of redemption
Let us like Mary and Joseph put our trust in God
With joyful hearts and faith in God
Let us rejoice and celebrate our Christmas.
Prisca Onyinye Nwokorie is a Roman Catholic Nun. She belongs to the religious order of "Oblates of St. Benedict Joseph Labre" in Italy. She is a graduate of the University of Bari where she obtained her Bachelor's and Masters' degrees in "Information and Communication Technologies for the Production of Software" and "Computer Science" respectively. Currently, she is carrying out research work on "E-learning for Developing Countries".