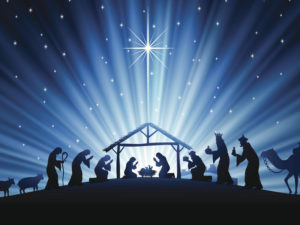 Many years ago in Bethlehem
a child was born for our Salvation.
He was a taste of the promised joy,
A presence to behold on our journey as pilgrims.
As I enlarge my vision like prophet Isaiah
I recognise the promise of God's grace in every life,
His birth brought light in darkness,
the glory of the revealed promise.
Among the singing host of the angels
who march in joy to Bethlehem,
There is a place for the shepherds,
for you and I, the weak and the strong, the famous and the poor.
His birth is beyond the miracle of nature
His arrival made the lame limp for joy
There is a song from the lips of the dumb
The blind have regained their sight.
As we march in joy to Bethlehem
in the company of the melodious chorus of the angels
Let us in one voice sing to the newborn king,
"Gloria in Excelsis Deo", "Silent Night", "The First Noel", "While Shepherds watched".
Our spirit rejoices in God our Saviour:
"God above us" has expressed our relation with the divine
"God before us" has reminded us of our liberation from slavery
"God with us" has revealed our oneness with God.
The joy of Christmas is eternal,
A joy that no one can remove from us
The joy of our Salvation is in the Infant Jesus
May His innocence and beauty transform our life, our families and the entire universe.
Prisca Onyinye Nwokorie is a Roman Catholic Nun. She belongs to the religious order of "Oblates of St. Benedict Joseph Labre" in Italy. She is a graduate of the University of Bari where she obtained her Bachelor's and Masters' degrees in "Information and Communication Technologies for the Production of Software" and "Computer Science" respectively. Currently, she is carrying out research work on "E-learning for Developing Countries".