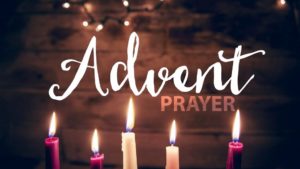 Inspired by our eagerness to prepare for Christmas
Our hearts must be elevated to God in prayers:
A constant prayer to implore for help and forgiveness,
A sincere prayer of thanksgiving for gifts received.
Regrettably, our hearts may be full of worries
about the kind of gifts to buy, special programs to attend and other family plans;
All of these are outside lives as we prepare for Jesus.
Our preparations and prayers should be a net,
A pillar of strength and courage to show the way to others
Like the fingers of John the Baptist
pointing to Jesus the anointed Messiah.
As the preparation of Christmas draws near
Our mouths shall continue to sing a new song of praise
The wastelands and the desert will exult for joy
The face of the earth shall be renewed.
Let us stay awake and be on guard like Mary
Let us be self-giving and obedient
Our heart desires the warmth of God's love
as our soul search for the light of His word in prayer.
God has made his home within our hearts
Let us seek Him now that he may be found
As the breeze of the Holy Spirit moves in our lives
Let us call on Him in prayer now that he is near.
Prisca Onyinye Nwokorie is a Roman Catholic Nun. She belongs to the religious order of "Oblates of St. Benedict Joseph Labre" in Italy. She is a graduate of the University of Bari where she obtained her Bachelor's and Masters' degrees in "Information and Communication Technologies for the Production of Software" and "Computer Science" respectively. Currently, she is carrying out research work on "E-learning for Developing Countries".