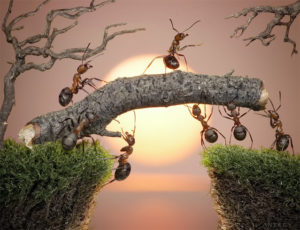 I must work the work of him who sent me
Now that it is a day
Yes, for the night is coming. And I cannot work again
The prayer of the Ant.
I must work and this is my duty
Orders are giving and it is not my business
My only concern is to carry out the order now I can see
Times are coming when I will be unable to do them
I want to work as if all my lives depend on working
There are respect and honour in obedience and order
Fools think it a humiliation but I am dignified
Just watch how joyfully I work and learn
Is it not you who is a fool by being lazy
Orders are given and I use my initiative
Check whether any person had policed me around
Check whether I am forced to carry out orders
I am proud of it. Yes, I am disciplined
Don't think I am not free to say no to orders
But it will be rebellion there is no room for it
Act, act now you weak brain
It pays much to be industrious
When you are busy you will never think of funny things
Make duty your aim and you will be happy
Love is best shown in carrying out duties
Through it you alleviate the burdens others would have suffered
Even if you call it cowardice, I am not disturbed
What really counts is that I am happy doing it
Now tell me what joy you have for being obstinate and rebellious
What bread can laziness buy you
What strength can you boast of for remaining idle
Use your tongue and count your teeth
I am blessed. I am happy, I am proud. I am a dutiful Ant
Tell it to the birds!