A DIRGE TO A LOVING UNCLE (1942 - 2013)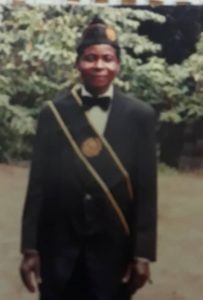 Dee Amby, today is your day
A day with a difference
A day your loved ones gather together
To behold you in a dignified way.
I believe you too would have loved to ask a question just like Jesus:
"who do people say that I am?"
Though you are not here with us physically,
spiritually you are with us.
What a wonderful day to celebrate your life on earth
God bless all those that were fortunate to know you
Today I remember you,
And bid you one last goodbye.
Celebrating the life you had
People loved you not only for your talent as a choirmaster
but for your gentle spirit and willingness to share,
teach and serve the Lord as a knight.
You'll never be forgotten by any one of us,
Your smiling face and your tender love
which inspired you to offer your daughter, Sr Chinyere
As a gift to God and for the missionary church.
I thank you for all your efforts,
all the struggles and sacrifice for your family
to provide their daily needs
and to bring them to faith.
Since God has decided to take you home
Enjoy your stay in the bosom of Abraham
But just remember one thing:
"I love you. God's love for you is more precious".
Prisca Onyinye Nwokorie is a Roman Catholic Nun. She belongs to the religious order of "Oblates of St. Benedict Joseph Labre" in Italy. She is a graduate of the University of Bari where she obtained her Bachelor's and Masters' degrees in "Information and Communication Technologies for the Production of Software" and "Computer Science" respectively. Currently, she is carrying out research work on "E-learning for Developing Countries".