Nze (Mayor) Dennis Dike Agbagwara (1927-2019)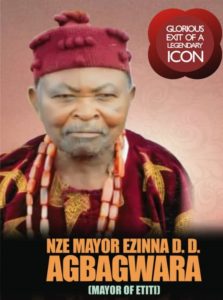 Inspired by the first promise in Eden
Human hearts long for the coming of the Saviour
Our father, Uncle, brother, grandpa, inlaw and friend has gone to meet his God.
Late Pa Nze (Mayor) Ezinna Dennis Dike Agbagwara has gone to rest.
Behold the attribute of such a great man,
Born at the sunrise, laboured in the Noonday
At rest in the evening of life just as the trees shed their leaves
Such was the summary of his life on earth.
People knew him as "Mayor" because he was a man of the people
His identity was not hidden
His fragrance and quality were unmistakable
His character was unique.
Extraordinary was his speech
With his words, everyone could recognize him
You could describe his personality by just looking into his eyes
Happiness was a part of his character.
I celebrate your life on earth
You were brave, honest and truthful
Your gentle smile gained you many friends
You were never quarrelsome, just as simple as a child.
Cheerfully, you displayed your generosity
You lived daily doing what you wished
In times of joy and adversity, you were present to your family and neighbours
You left your world better than you found it.
You lived well and achieved success
Your family enjoyed the trust of having you as a good father, the respect of intelligent father, Uncle, inlaw, grandfather and a friend.
Rest on great "Mayor", when change and tears are past
Though we would have loved to have you back with us, God's call cannot be postponed
At the end of our pilgrimage on earth, we shall meet at last in unending happiness.
Rest in peace. We love you dearly. Adieu.
Prisca Onyinye Nwokorie is a Roman Catholic Nun. She belongs to the religious order of "Oblates of St. Benedict Joseph Labre" in Italy. She is a graduate of the University of Bari where she obtained her Bachelor's and Masters' degrees in "Information and Communication Technologies for the Production of Software" and "Computer Science" respectively. Currently, she is carrying out research work on "E-learning for Developing Countries".