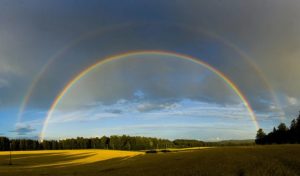 From the little village of Bethlehem
The tidings of Christ's birth sounded a new song in the air;
To the poor shepherds who guarded over their flocks,
God's voice was heard through His angels.
The good news of Christ's birth renewed the earth
The message of the angel produced a rainbow of great joy, peace and love.
God offered us pardon, freedom and enthusiasm,
He freed us from the servitude of guilt, fear and sin.
The rainbow of joy reconciled us with God
Through Christ, heaven and earth are united;
In creation God made us resemble Him
In His incarnation, we share in the holiness of Christ.
From His birth, the Wise men recognised him as a king
He was given the gifts of gold, frankincense and myrrh
Shepherds knelt down and admired Him
The choirs of Angels were busy with their songs of praise.
The rainbow of joy revealed the identity of God
His name is Emmanuel - "God with us"
He was born into the family of Mary and Joseph
His childhood was like ours.
He lived like every one of us
He shared every experience in our lives:
Sorrows, burden, agony, trouble, sufferings and death.
He shared our joy when we rejoice in happiness.
Christ has drawn a rainbow of hope around our families
He does not force His genuine love on us
By faith, He asks us to receive Him
He has made himself available in the Holy Eucharist.
On this feast of the Holy Family
Let our love for one another be rooted in God's love.
Let us offer Him the gift of ourselves
As we celebrate His birth with our families.
Prisca Onyinye Nwokorie is a Roman Catholic Nun. She belongs to the religious order of "Oblates of St. Benedict Joseph Labre" in Italy. She is a graduate of the University of Bari where she obtained her Bachelor's and Masters' degrees in "Information and Communication Technologies for the Production of Software" and "Computer Science" respectively. Currently, she is carrying out research work on "E-learning for Developing Countries".