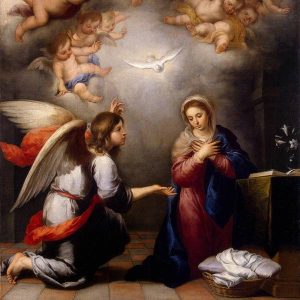 When God reveals His plan in our lives
the faithful obedience of Mary should be our guide.
God's plan may be too great for us to accomplish;
Do not be afraid! God will take the lead.
Our mission is to make obedience of faith
Nothing is beyond God's reach.
Let us make space in our heart
Keeping our mind and spirit awake
Let us not allow our thoughts to wander
God is present everywhere and always
With a joyful heart, let us welcome Him
God's gift of love is immense.
The prophet Isaiah proclaimed hope to the deserted Israelites
The angel Gabriel was sent to Mary to announce the great arrival of a redeemer
The promise of old was fulfilled through Mary
John the Baptist declared Jesus' mission,
"Behold the lamb of God who takes away the sins of the world!".
In our own time, we will celebrate the joyful mystery of Christ
even as we experience difficulty, injuries and violence.
The power of His Spirit and wisdom will guide us like Mary and Joseph;
Let us live with courage and strength;
Let our song of praise be in our hearts and on our lips
as we serve God and our neighbour in this Advent season.
Prisca Onyinye Nwokorie is a Roman Catholic Nun. She belongs to the religious order of "Oblates of St. Benedict Joseph Labre" in Italy. She is a graduate of the University of Bari where she obtained her Bachelor's and Masters' degrees in "Information and Communication Technologies for the Production of Software" and "Computer Science" respectively. Currently, she is carrying out research work on "E-learning for Developing Countries".