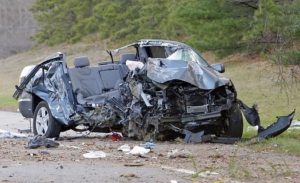 Nora had written her name in the list of the unfortunate ones, those whose lives are filled with woes and inconsiderable failures. She could fancy nothing positive in her daily pursuit in this gallant and contingent world. She associated herself with negatives – having nothing to show for life, which can be termed successful. In fact, she had drawn the conclusion that God is partial and had positioned her on an unformed ground with distorted ambition.
She had started her life just like every other person among her peers. She could recollect how many times she had not come first in her class all through her primary and secondary school days. She could not now reconcile those favours with the turn of event. The only girl that presented a challenge to her as Kate, now late. What unfortunate! This could have happened to her. Probably that was the reason for all these delays all these while.
Unlike Nora, Kate who was striving so much to match her during their secondary school days made her papers at one sitting. She excelled in all the papers and was considered one of the best students of the time. Nora, on the other hand, struggled with only six papers excluding English and Chemistry. She was to retake for the examination. Years passed with Nora to be smitten by reoccurring "nearly".
She denied herself many pleasures in order that she will get what she thought truly should be hers. All these Nora's wasted years saw Kate flourishing and rapidly finishing her Medicine in the higher institution of learning. She graduated the same year Nora completed her Secondary School Certificate Examination papers. Another round of struggle started for Nora to make her entrance examination and secure admission. Within this awaiting time, Kate had successfully finished her youth service and was employed in the same hospital she served.
When at last Nora secured admission in the University to study Microbiology, Kate was shooting her way up with many goodies. It all seemed to like her sun was shining brighter than normal, casting a blurring shadow against her bosom friends. Kate altogether paid visits to her friend recounting her experiences and elucidating the complexity of her position. In as much as Nora appreciated her friend's successes, she often spends the rest of the day after such visits sulking and nagging at any available cause. She will blame everything around her as the cause of her pejorative situation. She wondered why her own sun would not shine as bright as her friends would. "Oh well! Luck and gods dealt with me in a depreciating way", she always exclaims.
Kate in her youthful exuberance and added to her seemingly surging favours became less shrewd in her dealings and became involved in a young reckless doctor, though from a very grand background. They enjoy their free times together and had already made a strong proposal for their matrimonial establishment. When Nora heard this, she was even more miserable, not just out of jealousy but merely that she should have been in that position or even in a better one. She often falls into daydreaming about such a man of valour proposing to her. While she will be rejoicing for the opportunity, it will dramatically turn a horrible nightmare where an incubus will try to seduce her. All these came to her in chains and nearly make her grow insane.
Kate as it became a yardstick for measuring her doom in contradistinction with her competing successes. Her injuries reached the peak when she heard that Kate was to continue with her studies abroad, thanks to the scholarship award she got from the Hospital's board of Directors. Kate oblivious do the feelings of her friend broke the News to her and duly invited her for the send forth ceremony. Nora, nonetheless, accepted the invitation because she could not say no. After all, it was not her friend's fault. She prepared specially for this and encouraged herself to cheer her friend as best as she could.
Kate on her own part planned to make the ceremony a grandeur type. Just the evening preceding the D-day, she went out with her fiancé to get things ready. She was to know very late on their way that her "young man" was sodden with alcohol. She tried effortlessly to convince the man out of the driving wheel. At the very moment when she determined to force her way out of the danger, the obvious happened. They crashed behind a parked big truck. The accident saw Kate instantly dead, while the young man's condition was what you can describe as hopeless.
When Nora heard this, she was shocked to the marrow. It was a very big knock, a piece of thunderous news and inconceivable experience. She merely accentuated, "This would have been my lot. God save my soul!"
Prisca Onyinye Nwokorie is a Roman Catholic Nun. She belongs to the religious order of "Oblates of St. Benedict Joseph Labre" in Italy. She is a graduate of the University of Bari where she obtained her Bachelor's and Masters' degrees in "Information and Communication Technologies for the Production of Software" and "Computer Science" respectively. Currently, she is carrying out research work on "E-learning for Developing Countries".