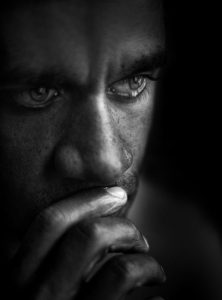 The telephone bell had been ringing in the connecting room. Peter was reluctant to pick up the phone though there was the urge to do so. He was unreasonably worried about the issues surrounding the uncelebrated annulment of his new post in the university as the Scripture Union president. It's not as if his fuming about will make any change. He knew this but could not help being worried. "What is wrong with me for goodness sake!"? He banged the door and stood to gaze aimlessly at the door, posed as if waiting for an assailant. The telephone was stubbornly ringing still. "Who can this insensitive wretch be? Can't the fool learn from the silence?" He murmured to himself. He sat down on the cushion nearest to the door trying to think about the whole episode.
It was then that it dawned on him that he had a business trip to make with his friend John. Immediately, he opened the door to pick up the receiver only to find out that the line had cut already.
It was an evil day for Peter. He did not know John's telephone number. He would not know where and how to locate him at this time of the day. This really aggravated his sorrow. Could it be that John had at last decided to make the trip alone? This will mean that his own share of the procedure is at stake. He will only be at the mercy of John for kind consideration. He was still struggling with this self-blame when the telephone bell started ringing again. This time with tensed vibration. Peter brightened up and went swiftly to the table and was ready to call John a stupid, impatient and importunate animal. For him, John should be stupid for not coming to him on account of imminent misfortune. He must be a selfish son of a bitch.
But Peter got it all wrong. It was never in the list John who was calling. It was already late for any remedy. He dropped the receiver unconsciously, taking no notice of somebody who had just opened the door of his room and entered. Peter was gaping at the machine as if it were a monster. He was unable to contend with the message he got. He slumped to the ground. "What's the matter with you, Peter?" The intruder asked. "Oh! It's too late". "Too late to do what". The intruder queried: "I am sorry John. I am indeed sorry. Forgive me, John. I am so…" He entered into the "black world". "Peter! Peter! What is happening? What happened to John". But she got no answer. Peter had fainted.
She attracted the neighbours who helped Peter into his visitor's car. She took him to a specialist hospital near the vicinity. Eighteen hours elapsed before Peter was able to regain his consciousness. Sitting beside him was Nancy, the lady who had loved and cared for him like a son. On seeing him back to life, she bent down and kissed his forehead: 'You're alright Pee'. He jumped out of the bed with full energy. "What am I doing here? Who brought me here? Who are you?" He charged towards Nancy. But she was experienced in handling complexities and this one will not be a difference. "Peter, common be a good boy. Take it easy. Come and sit down and tell me what happened to John". She held closer, disarming him of his immense strength. He melted in her hand. His energy failed him. He cried bitterly. "His spirit will not forgive me. I am stupid. I am selfish. I deserve no mercy. He was such a loving doll. I missed him because of my egoistic ambition. He should not have died. Now I am friendless. God! God! Where were you when they killed this saint? Would I died in his stead, it would have been a credit to humanity who would have benefitted from this icon of love, an edifice of benevolence, a portrait of honesty. I am not worthy to…" "Now shut up Peter", she barked. "These long self-blame can't help an inch. What can we do". "It is too late", replied Peter.
John had been ambushed on his way home the night proceeding that fateful day by a gang of drink-sodden youths. They beat him to a coma. Before help came, they had left him thinking he had died. He was able to identify a few of them. The whole incident was not unconnected to the election of Peter to the annulled post. John had worked assiduously to ensure that Peter should be reinstated as a duly elected president. This had merited his death from a gang Peter's opponent sent after him. He told the policemen this when he regained a moment of consciousness. He tried to see Peter but he was not ready then. It was the nurse who was attending to the meekly dying John that was calling Peter that morning. Her voice showed her grief. Had it been Peter played on time, there may have been a difference. But it was too late. It was a report. Yes, a shock he may not recover from. "I must fight the cause of my friend's death no matter what it may cause me", Peter said at last. "I am always with you", Nancy adjoined.
Prisca Onyinye Nwokorie is a Roman Catholic Nun. She belongs to the religious order of "Oblates of St. Benedict Joseph Labre" in Italy. She is a graduate of the University of Bari where she obtained her Bachelor's and Masters' degrees in "Information and Communication Technologies for the Production of Software" and "Computer Science" respectively. Currently, she is carrying out research work on "E-learning for Developing Countries".