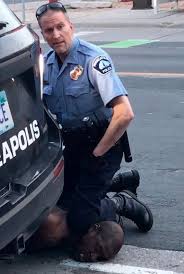 My death has triggered a terrible crisis
as I was pinned down on the ground by a fellow man, a police officer, a white man and a public officer on duty
I thought he would have saved my life on the allegation that was passed against me, a 20 dollar bill.
I am a man, a father, a brother and a relative to many of you
Everyone saw me handcuffed by the policemen.
My death is a symbol of many death cases registered in the world
As an African, I understand the value of life
Many of us have lost our fathers, mothers, children, siblings and relatives in a similar way
The death stories are the same: racism, sexism, war casualties, innocent victims and those killed in their farms, homes, churches, schools, markets and hospitals.
Some have considered the colour of my skin, nationality and religion a weapon for discrimination,
extremely dangerous for them to look and to behold
The injustice could be a threat to justice everywhere
No matter where, how and when, killing is an inhuman act.
As I said earlier, I died at the scene before the onlookers
My life was subtracted from me by force
I pleaded desperately in my words: please, I cannot breathe
In my desperation, I called my late mother, but no help came to me.
My nose bled as I panted for breath
I had kids who expected me to come home, but I never made it alive
Even as I was dying I addressed the officer as sir
In my last breath, I approached him with respect.
I died in his hands because I could not breath
He killed me unjustly when he should have cautioned me
He is a man like me: we would have resolved the charge as guys
At least, he would have charged me to a court or suffered me in prison.
Police are your friends, this I was taught
No one informed me that a policeman is trained not to love anyone
In his eyes, everyone seems to be a suspect
I would have avoided him whether or not he was to be a sibling.
I screamed begging for mercy and help
My supposed friend knelt on my neck
Was he interceding to God in prayers?
I never knew that my neck would be an altar of sacrifice.
My pain and sorrow was not on the charge levied on me
I was humiliated before my friends and the public
He mocked me as I cried out for my mummy
My mother was everything to me before death separated her from me.
What happened to me is unforgivable
He left me to die a painful death as he had his hands in his pocket
I know that someday my children will watch the video clip
The story of my death will be remembered by all in every part of the world.
I know my world is gloomy with this kind of death
I can imagine thousands of desperate cries of the innocent victims of injustice:
the victims of the Biafran war, of religious wars, the freedom fighters and those who lost their lives through different channels
I unite my death with theirs until we awake in God's presence.
Prisca Onyinye Nwokorie is a Roman Catholic Nun. She belongs to the religious order of "Oblates of St. Benedict Joseph Labre" in Italy. She is a graduate of the University of Bari where she obtained her Bachelor's and Masters' degrees in "Information and Communication Technologies for the Production of Software" and "Computer Science" respectively. Currently, she is carrying out research work on "E-learning for Developing Countries".