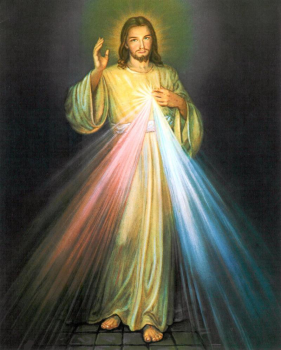 Christ has put Himself in a touching distance for your sake
He wants your fingertips to touch Him and receive mercy
He wants you to approach Him easily
Go to Him for the refreshment of your soul.
His sacred heart is filled to the brim that you may enjoy His mercy
He wants you to feel His spirit in your life
To your disfigured soul, He will give you a renewed life
He wants to reconcile you with God.
God has shown you a pattern of his love
His mercy for you is compassion, grace, pity, clemency, charity, forgiveness,
kindness, forbearance, mildness, confidence, calmness, generosity and trust
Go to Him for assistance and support.
God has been merciful and gracious to you
Today, He invites you to receive forgiveness
Forgive yourself and be at peace with God and neighbour
His mercy to you is endless.
God's mercy is alive in you
that you may enjoy the blessings from His victory
He was pierced because of our transgressions
Yet, His love to you and for you is endless.
His mercy is bigger than your troubles and worries
His heart weeps with you in your moment of sorrow
His mercy never returns evil for evil.
God's mercy is in search of sinners like you
He understands and knows your frailty
He wants to give you a new name
Go to Him and encounter His light of love.
Your life is founded on the mercy of God
He encourages you to build your life on His mercy
He wants you to embrace mercy
His mercy for you is infinite.
Prisca Onyinye Nwokorie is a Roman Catholic Nun. She belongs to the religious order of "Oblates of St. Benedict Joseph Labre" in Italy. She is a graduate of the University of Bari where she obtained her Bachelor's and Masters' degrees in "Information and Communication Technologies for the Production of Software" and "Computer Science" respectively. Currently, she is carrying out research work on "E-learning for Developing Countries".