𝗜𝗻𝘁𝗲𝗿𝗻𝗮𝘁𝗶𝗼𝗻𝗮𝗹 𝗘𝘅𝗲𝗰𝘂𝘁𝗶𝘃𝗲 𝗗𝗶𝗽𝗹𝗼𝗺𝗮 𝗶𝗻 𝗗𝗶𝘀𝗮𝘀𝘁𝗲𝗿 𝗠𝗮𝗻𝗮𝗴𝗲𝗺𝗲𝗻𝘁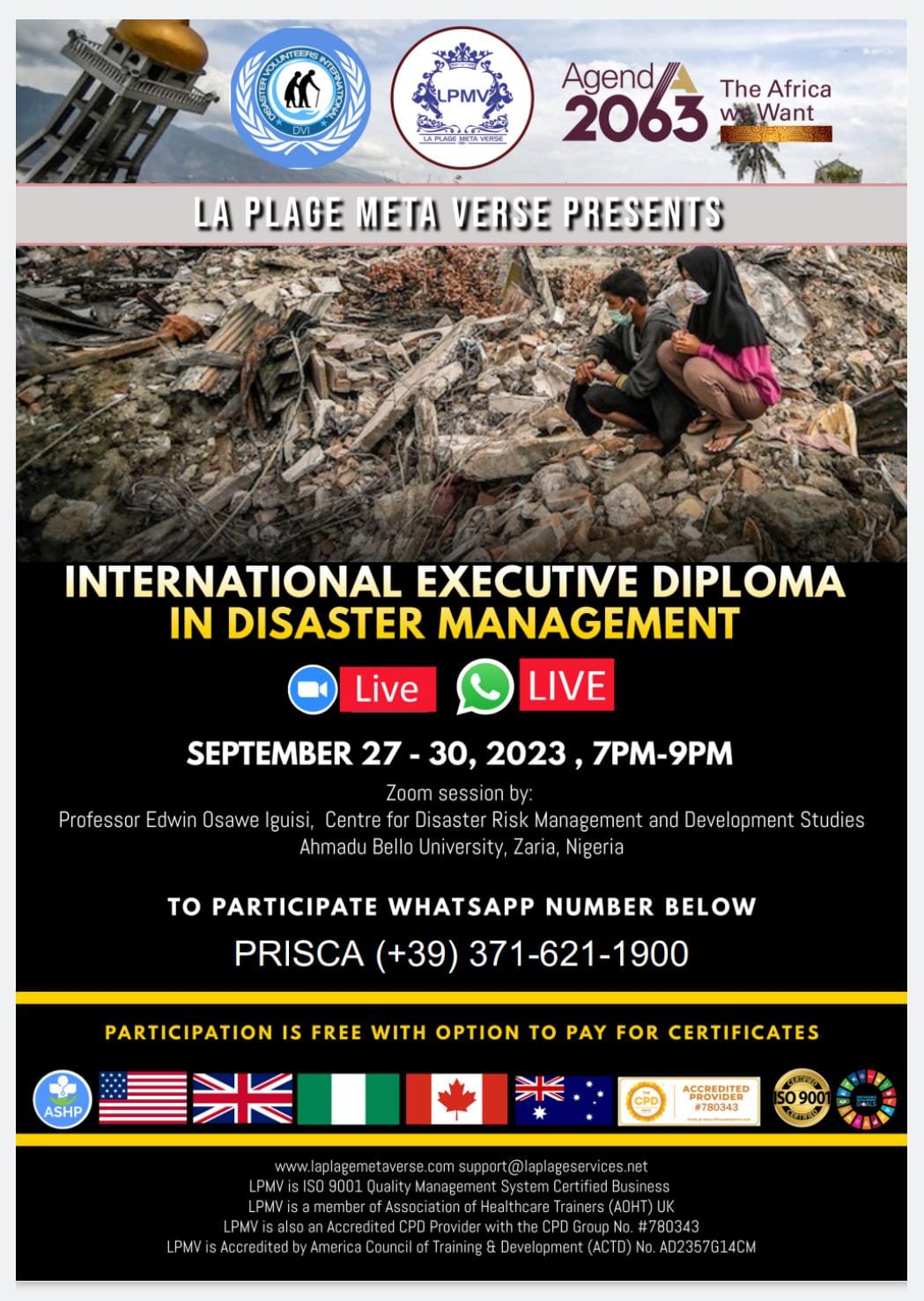 𝗟𝗔 𝗣𝗟𝗔𝗚𝗘 𝗠𝗘𝗧𝗔 𝗩𝗘𝗥𝗦𝗘
𝗣𝗥𝗘𝗦𝗘𝗡𝗧𝗦
𝗜𝗻𝘁𝗲𝗿𝗻𝗮𝘁𝗶𝗼𝗻𝗮𝗹 𝗘𝘅𝗲𝗰𝘂𝘁𝗶𝘃𝗲 𝗗𝗶𝗽𝗹𝗼𝗺𝗮 𝗶𝗻 𝗗𝗶𝘀𝗮𝘀𝘁𝗲𝗿 𝗠𝗮𝗻𝗮𝗴𝗲𝗺𝗲𝗻𝘁
This is an opportunity to upgrade your profile and CV to international standard in the field of Disaster Management.
𝗣𝗮𝗿𝘁𝗶𝗰𝗶𝗽𝗮𝘁𝗶𝗼𝗻 𝗶𝘀 𝗙𝗥𝗘𝗘 𝘄𝗶𝘁𝗵 𝗮𝗻 𝗼𝗽𝘁𝗶𝗼𝗻 𝘁𝗼 𝗽𝗮𝘆 𝗳𝗼𝗿 𝗰𝗲𝗿𝘁𝗶𝗳𝗶𝗰𝗮𝘁𝗲 𝗮𝗳𝘁𝗲𝗿 𝘁𝗵𝗲 𝘁𝗿𝗮𝗶𝗻𝗶𝗻𝗴.
𝗗𝗮𝘁𝗲: 𝗦𝗲𝗽𝘁𝗲𝗺𝗯𝗲𝗿 𝟮𝟳-𝟯𝟬, 𝟮𝟬𝟮𝟯
𝗧𝗶𝗺𝗲: 𝟳𝗣𝗠-𝟵𝗣𝗠
𝗩𝗲𝗻𝘂𝗲: 𝗪𝗵𝗮𝘁𝘀𝗮𝗽𝗽/𝗭𝗼𝗼𝗺
𝗛𝗼𝘀𝘁 𝗳𝗼𝗿 𝘁𝗵𝗲 𝘇𝗼𝗼𝗺 𝘀𝗲𝘀𝘀𝗶𝗼𝗻 𝘄𝗶𝗹𝗹 𝗯𝗲:
𝗣𝗿𝗼𝗳𝗲𝘀𝘀𝗼𝗿 𝗘𝗱𝘄𝗶𝗻 𝗢𝘀𝗮𝘄𝗲 𝗜𝗴𝘂𝗶𝘀𝗶 of Centre for Disaster Risk Management and Development Studies,
𝗔𝗵𝗺𝗮𝗱𝘂 𝗕𝗲𝗹𝗹𝗼 𝗨𝗻𝗶𝘃𝗲𝗿𝘀𝗶𝘁𝘆, 𝗭𝗮𝗿𝗶𝗮, 𝗡𝗶𝗴𝗲𝗿𝗶𝗮.
𝗧𝗼 𝗽𝗮𝗿𝘁𝗶𝗰𝗶𝗽𝗮𝘁𝗲 𝗳𝗼𝗿 𝗳𝗿𝗲𝗲, 𝘄𝗵𝗮𝘁𝘀𝗮𝗽𝗽 𝘁𝗵𝗲 𝗻𝘂𝗺𝗯𝗲𝗿 𝗯𝗲𝗹𝗼𝘄:
(+39) 3716211900
𝗢𝗿 𝘂𝘀𝗲 𝘁𝗵𝗲 𝗹𝗶𝗻𝗸 𝗯𝗲𝗹𝗼𝘄:
https://chat.whatsapp.com/JqjAGquwp3L1BKzgDvlogc
𝗙𝗘𝗘𝗟 𝗙𝗥𝗘𝗘 𝗧𝗢 𝗦𝗛𝗔𝗥𝗘 𝗧𝗛𝗜𝗦