Mt 23:26 "First clean the inside of the cup, so that the outside also may become clean".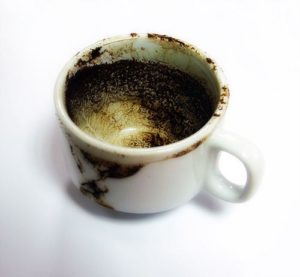 What is inside the cup counts. The external is of less importance. Let us first clean the inside of our cup, so that the outside also may become clean. Our soul is our cup. It is only God that can see the inside of our heart: our inner strength in terms of determination, courage, patience, perseverance, bravery, endurance and our feelings of love, care, affection, tenderness and care. Behind our actions is our motivation. Behind our intention is our interest. In everything that we engage ourselves in, let us do it with a purified intention. Let us avoid cleaning only the external of our cups like hypocrites who love to be admired by the external world. Let us stop making the cover look more attractive.
What seems right on the cover may be a lack on the inside. The outward appearance is deceitful. Let us make our heart more like the heart of Jesus in love, compassion, mercy, patience, justice and understanding towards the others. How many times have we tried to please God and end up in doing the wrong thing? Jesus condemns the idea that if we want to receive something from God we have to pay (the forgiveness of sins, the fulfilment of a prayer...) just like when we go shopping ... Attending Mass daily or on Sunday, group or personal devotions are not enough to guarantee us a clear conscience. Our paying of tithes matters little if there is no personal relationship with God or if these prayers do not affect our lifestyle.
What we risk missing is that such a life of faith is a boring life. As long as we live our relationship with God like the one we have with the supermarket cashier, we will never be amazed. From our "merchant god" we will expect nothing more than what we ask of him (and of course we get angry when we don't get it). While God wants to give us much more, He wants to open us to a fuller life than the one we have projected.
The essence of our daily devotion to God is summarised in the commandment of LOVE: the love of God and the love of neighbour.
Prayer: Lord, grant me your light so that I can see my hypocrisy. Lord, have mercy on me!
– By Prisca Onyinye Nwokorie