Feast - January 18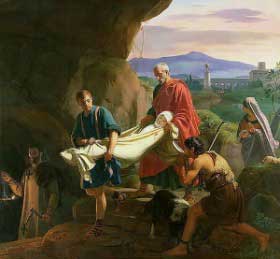 Saint Prisca was only a child
She truly believed in her Christian faith
Though small and defenceless
she was not frightened to profess her religion.
Prisca learnt to worship the Almighty God
She declined her obedience to the Emperor Claudius
She underwent a cruel treatment
She stood up for what was right before God.
Prisca was whipped and later taken to the prison
She suffered cold and hunger
Her firmness affected others
since she refused to sacrifice to the gods
Prisca saw everyone around her becoming weak
as no one dared to speak of God
for fear of being persecuted
But she was motivated to stay strong.
Before her execution, Prisca knelt in prayer
She prayed to God for the courage to remain resolute
Her brave spirit illuminated among her persecutors
She seemed to be a human star giving off light.
Prisca was fearless before the lion
The lion did not hurt her:
The lion bent his head and licked her bare feet
and later squatted down by her side.
Prisca never gave up her faith in God
She was brought outside the Ostian gate
and beheaded by the Roman persecutors.
when Prisca appeared in a robe of yellow sunshine
The Emperor admired her fearlessness
Everyone saw her strength and courage
Prisca never moaned or screamed in her martyrdom.
When Prisca died an eagle hovered over her body,
The awful cries of the eagle scared the Romans
The eagle allowed the Christians to carry Prisca's body
Secretly, they buried her in a hidden tomb unknown to the Romans.
Prisca Onyinye Nwokorie is a Roman Catholic Nun. She belongs to the religious order of "Oblates of St. Benedict Joseph Labre" in Italy. She is a graduate of the University of Bari where she obtained her Bachelor's and Masters' degrees in "Information and Communication Technologies for the Production of Software" and "Computer Science" respectively. Currently, she is carrying out research work on "E-learning for Developing Countries".